Sara Biermann
 (Lover, Healer, Facilitator)
I am a warrior of Love.I thread awareness, connection, and divine purpose to facilitate the whole embrace of self. I offer my personal embodiment in becoming and I apply my background in RSE, Blu Room, Bodywork, Food as medicine and Ayurveda.
When we expand to the awareness that all in our reality is a reflection, we can see the opportunity to become who we are by inviting every single part of ourselves to show up and be seen. Let's dive in and learn about our unique alchemy of what it means to love ourselves into life.
We break open to become whole again.
Through the healing modalities of bodywork, movement, and energetics of food we can connect to our divinity. Our body/soul/spirit are always communicating with us and by using simple exercises we can purposefully tune in and receive information. When we learn to translate the messages being sent, we are empowered to participate in the dialogue. No longer a victim to circumstance, but a conscious creator of our own reality.
In observing the stories we habitually replay in our head, we get to ask "Is this true? Where did this originate?". Through awareness we are then able to see how our perspective/attitudes shape our lives in every way. Once we identify the motive behind these repetitive programs we can acknowledge their divine purpose for gaining the wisdom. Every day we have the power to mindfully write a new script and by shifting our perspective, we change our life.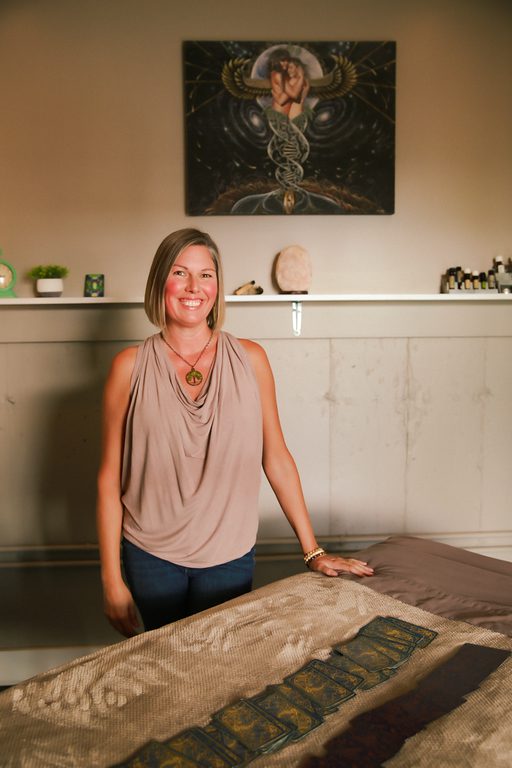 Now Offering Intuitive Bodyworks Sessions!
Discover the art of healing and self-discovery like never before. My sessions are a one-of-a-kind journey into the realms of body, mind, and spirit. With every visit, you'll encounter something new, something profound.
What sets this apart is my commitment to bringing my complete presence and expertise to the table. I act as a guide to help you navigate the intricate dance of energy fields and consciousness.
Here's what you can expect:
Personalized Approach: I tailor each session to your unique needs. There are no one-size-fits-all treatments here. Your journey is as distinct as you are.

Energy Fusion: Our energies entwine, creating an environment of love, care, and transformation. You might even experience a transformation as we work together.

Listening and Guiding: I listen deeply to your body and spirit, guided by your intentions. Specific areas will draw my attention, helping me focus on what matters most to you.

The Unknown Awaits: I can't predict what you'll experience because it's as unique as you are. Your session is a co-creation, a personalized path to well-being.
If you're seeking a different kind of bodywork experience, you've found it. It's time to embark on a journey of self-discovery, healing, and transformation. Book your session today to unlock the full potential of your body and spirit.
What my clients are saying…
I've been seeing Sara regularly for massage therapy for 2-3 years. I've been a chiropractor for 15 years, so I've worked alongside many, many massage therapists. Sara's intuitive approach is completely unique and unlike anything I'd ever experienced before. Her care and intuitive guidance is a vital component of my overall health and well-being and I believe a huge part of why I feel healthier in my 40s than I did in my 20s. 
A massage with Sara is like being with a magical mystical being. She follows her intuition and takes me on a trip to a different realm with her. There are card readings and small little snippets of wisdom given to Sara that she shares with gentleness. My body feels safe and melts into complete surrender.
I have had my share of massage therapy over the years and Sara is the best that I have ever had.  She has the beautiful gift of intuition which guides her into knowing my every need.  She adheres to and integrates all aspects of the body whether it is energetic or physical.  I feel completely refreshed, revitalized, and renewed on every level every time I'm with her.  I'd prefer not to praise her too much as I want her all to myself!